Pajaro Street Bar & Grill
On Facebook
email us: psgrill at psgrill.net
Online Portal:
Pajaro Street Grill is no longer a physical restaurant
It is now a virtual location for Chef/Owner Deamer Dunn
and his recurring character Chef/Artist Omar T Black
Stay Tuned for Web Site Updates on:
Omar T Novels
PSGrill Sketch and Cookbook
View Deamer Grill Sketches:
https://youtu.be/mCVlAh7hLTg
PAJARO STREET INFO PAGES:
Food & Wine Information
Recipes
Food, Nutrition. Health and Wellness
Virtual Restaurant of Food and Beverage Information
Former restaurant of the Author Deamer Dunn in Salinas CA
Home of Omar T Black, Chef/Artist/Traveler of the Deamer Mystery "Lite" Novels
Each Omar novel includes recipes!
Omar T in Monterey California
Omar T in San Diego & Tijuana
Omar T in Umbria Italy
Omar T in San Francisco (August 2018)
Coming Soon:
:Omar T in New York (2019)
:Omar T in Salt Lake City
Omar T in Africa
Omar T in Istanbul
Omar T in Hong Kong
Omar T in Singapore
Omar T in New Orleans
Omar T in Las Vegas
Omar T in Paris
and then ...
Don't travel without an Omar Novel, whether taking it along or letting it take you...

Announcing the sale of Pajaro Street.
Final Night Video: https://youtu.be/aDuzfaRYjq0
March 24th with be the last evening that the Grill will be open, with a grand opening for the new restaurant, Bajas Bar and Grill, scheduled tentatively on May 5th, giving the new owners time to upgrade the restaurant. I see this as a win, win, win. A win for the community gaining an upgraded restaurant with expanded hours and choice, a long history for the new owners to build on, and a chance for me to pursue my expanding career as an author. I will remain the restaurant landlord and unofficial consultant. A lot of doors have been opening for me as an artist and as an author and now I will have a chance to kick them open and see where they take me. The purchasing partnership were born and raised in Salinas and Carlos has been already running his colorful, health oriented wholesale ready-to-eat food out of the Pajaro Street kitchen. Carlos Lopez and Ricardo Mendoza are also life long friends. The exact make-up of the opening menu is still being discussed though they are planning being particularly oriented to fresh seafood, with a mix from the grill, ceviche and sushi. .
I will turn over the keys a month short of the twentieth anniversary from the day I bought the building and started its conversion to a restaurant. I feel so much gratitude to the community and all of you for your support and patience with all our ups and downs. I know my wife Lisa is looking down and smiling at us mortals. Not only about all the fond memories of love and good times, but also that the restaurant will morph into yet another life.
I hope all you locals will come visit at least one more time these next three weeks so I can spoil you one more time and get one more hug. Mother Marian and I are offering all the restaurant art at 50% off for these final weeks in hopes of greatly reducing our inventory. That's right, all art at half price and we will also accept payment on time. Here is your chance to obtain that work you have admired at half the price!!!
I will remain living on site, though my writing career will be commanding a lot of world travel. I also plan on spending more time in Tijuana and San Diego, which became a second home a dozen years ago.
Thanks so much for your patronage and hopefully I will see you over this final month of the grill,
y Gracias muchas,
hugs, Deamer
"Every day, is a great day, to read a book - or color one!"
Artist&Author - Omar T Novels
Amazon Author Page: https://www.amazon.com/author/deamerdunn
YouTube Author/Artist Page (music videos of art & book sketches):
https://www.youtube.com/user/deamerdunn

RIP PSGrill Co-founder: Lisa Dunn


Your Host: Chef Deamer Dunn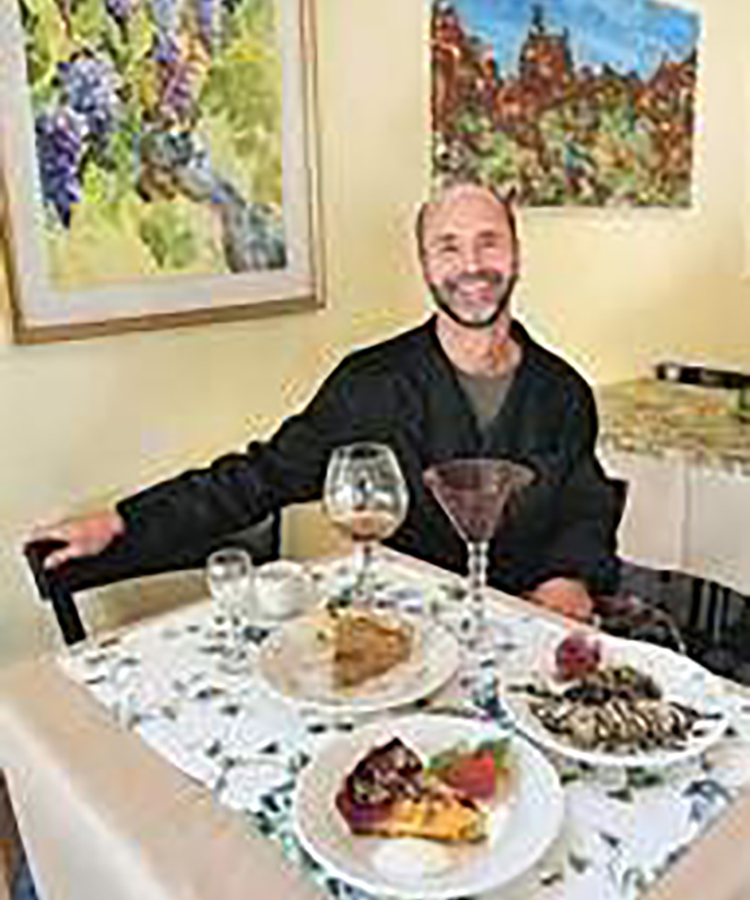 ABOUT THE AUTHOR:


Deamer was born and raised in Salt Lake City, Utah. He lived in Switzerland and the Washington D.C. area before settling in Monterey County California in the early 1980's. He currently resides in the birth city of John Steinbeck, Salinas California, the former home of his dinner only restaurant, Pajaro Street Grill. Deamer now spends much of his time in Tijuana Mexico and traveling the world with his recurring character, Omar T Black. "I have a list of some thirty more locations I hope to write Omar adventures- come join the journey!
http://artbz.bz
"Everyday is a great day to read a book or color one!!!"

Keep in touch with Deamer, as Omar travels the world!
deamer at artbz.bz Please pass on your impressions; write a review on Amazon and/or other sites such as Goodreads - your thoughts can really make a difference! Most your local bookstores can also get you Deamer novels at the same price as Amazon :
https://www.amazon.com/author/deamerdunn

YouTube Author/Artist Page (music videos of art & book sketches):
https://www.youtube.com/user/deamerdunn

Inklings - San Diego Author Group
Inklings - Central Coast Author Group